Minyak Wangian Yuzu (Grapefruit Jepun)
1/2 oz (15 ml) Botol Penitis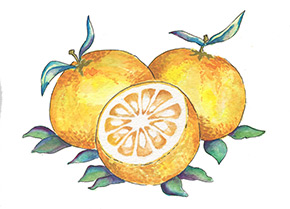 For those who are looking for a sparkling citrus aroma, look no further than our Yuzu Fragrance Oil! Also known as Japanese grapefruit, this small, thorny tree that bears hybrid citrus fruits that resemble small grapefruits. This bright, summery aroma blends wonderfully with other fruits, especially with peach, mango, papaya, lime, and strawberry fragrances!
Fragrance
Divine and fruity, a gourmet scent reminiscent of grapefruit
Flash Point
184°F
History of Yuzu
Though it may be found growing wild in central China and Tibet, yuzu holds a special place in Japan. It is grown extensively as an ornamental tree as well as for its fruit, which has a tart, grapefruit-like flavor with notes of mandarin orange. Whole and sliced yuzu are also used in spas, where they float in warm baths to release the delectable fragrance and lush oil. These yuzu baths are known as "yuzuyu" or "yuzuburo."
How to Use Yuzu Fragrance Oil
Add the divine aroma of yuzu fragrance oil to your candle making, incense, potpourri, soaps, deodorants and other bath and body products!
To learn how to make your own unique homemade candles, check out this simple step-by-step on The Pipe Line!